SMDC Coast Residences - LOCATION
Coast Residence is Located at Roxas Boulevard, Pasay City.
One of the greatest offerings of Pasay City is the fact that the city has a rich history and offers many museums, galleries, and exhibits that will help you feel pride in living in this area. There are also some great landmarks that you can check out. The SM Mall of Asia is the biggest attraction, which has so much entertainment no matter what you are looking for. It is an area in which you will enjoy shopping, events, and even spending time at an amusement park with a Ferris wheel that overlooks Pasay City. There are restaurants and cinemas, and live theater performances. Each Saturday night, there are fireworks that can be seen from almost anywhere in the city. There are also multiple restaurants to satisfy anyone in your party. Since Pasay City is so close to the water, there are some great seafood restaurants in the area with fresh food. With an arena nearby, there are opportunities for you to see sporting events, concerts, and other entertainment. There are also many beautiful cathedrals and churches to meet any of your spiritual needs or for you to explore. Pasay City offers some great architecture if that is something you are interested in. The city and its buildings are so modern, and you will enjoy being a resident of this great place.  
The schools in the area are well-respected, and have so much to offer for your children. With a variety of schools, your children can learn so much about many different subjects. With a high school that specializes in the area of science, your child is sure to get a great education. Pasay City Science High School offers courses in science and mathematics that are advanced to help your child reach their highest potential. Pasay City West High School also offers a curriculum that will allow your child to be successful. Other schools in the area also offer a diverse education as there are over 12 private elementary schools to choose from.

There are so many colleges and universities to choose from if you are just graduating high school or looking to further your education. Whether you are looking to go into law studies, education, or computer technology, there is a little something for everyone. You will be able to further your education since there is so much to choose from. It will be easy to find a program that fits into your schedule. When looking for a school that meets your needs, it will be important to be in such an area with diverse opportunities. Having such a variety of schools, you are sure to find a perfect program that interests you. The different colleges also offer affordable tuitions. Being in a city that offers so much, you are likely to find a career or job once you are finished or while you are studying. With a booming business area like Pasay City, there is so much potential for you to do anything you can dream of. The world will be at your fingertips. The best part is it will be right down the street from the comfort of your own home!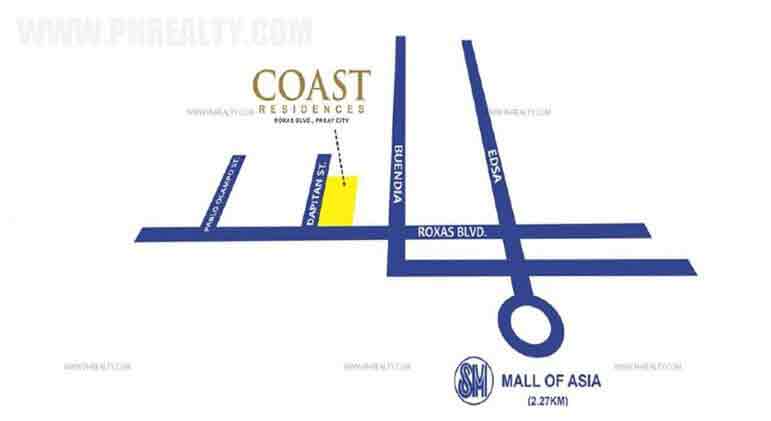 Pasay city is what most people dream of. The fast-paced city has got everything from the health to education. The breathtaking view of the city at night is so welcoming.
Coast Residences just deserve to be on Pasay's soil. It is easy to maneuver around the city whether on foot or in vehicles. Pasay city is one favoured city. It's nightlife is one to be yearned for thus living in Coast Residences is no disappointment at all.
Investing in a home at Coast Residences Pasay means enjoying the vacation-like lifestyle of Pasay. The touristique city is full of parks and historical sites that you can visit. Holidays and summer season is all about having some fun but you don't have to run away from your city in search of fun. This is a city within a city. It has got everything whether you are into partying, swimming, movies, whatever.
The city gives you a chance to have a glimpse of the breathtaking sunset of Manila Bay.
Fill your life with unforgettable experiences by enjoying the world class amenities in the city; the swimming pools, the movie theatres, the state-of-the-art cinema halls and most of all, the relaxed lifestyle that the city offers.
The shopping experience is amazing as the city is full of Shopping centres and malls. For the ladies, your closets will be screaming of all the trending fashions. And for those in high school, you don't have to be a cool kid in order to look like a cool kid. The shopping malls in the city have all that it takes to look like one and at an amazingly affordable prices. For the men, your taste was also taken into consideration, just drop into one of the lifestyle malls in the city and see yourself come out with your hands full of bags.
That romantic date that you want to set for your partner does not have to stress you when there are these restaurants that can set it all up for you.